Carrinho vazio.
KIT Combo Controladora de Voo Hobbywing Xrotor F4 G2 + ESC HW 32Bits 4 em 1 45A DShot1200
R$ 449,90
12× de R$ 45,17
vezes
parcela
total
1×

sem juros

R$ 449,90
R$ 449,90
2×
R$ 230,33
R$ 460,66
3×
R$ 157,14
R$ 471,42
4×
R$ 120,54
R$ 482,16
5×
R$ 98,21
R$ 491,05
6×
R$ 83,02
R$ 498,12
7×
R$ 72,18
R$ 505,26
8×
R$ 64,07
R$ 512,56
9×
R$ 57,76
R$ 519,84
10×
R$ 52,71
R$ 527,10
11×
R$ 48,60
R$ 534,60
12×
R$ 45,17
R$ 542,04
Você poderá escolher o número de parcelas ao concluir a compra.

* Isto é uma simulação, verifique o valor final das parcelas no intermediador de pagamentos.
KIT Combo Controladora de Voo Hobbywing Xrotor F4 G2 + ESC 32Bits 4 em 1 45A DShot1200
PRODUTO EM ESTOQUE!!!!
This is the Flight Controller and ESC stack of choice for many of the leading FPV Pilots in the world, including Minchan Kim, Milk FPV, Gapit FPV, Banni UK; just to name a few. And for good reason, it was designed for intense competition. This stack is built with premium components that won't let you down on race day.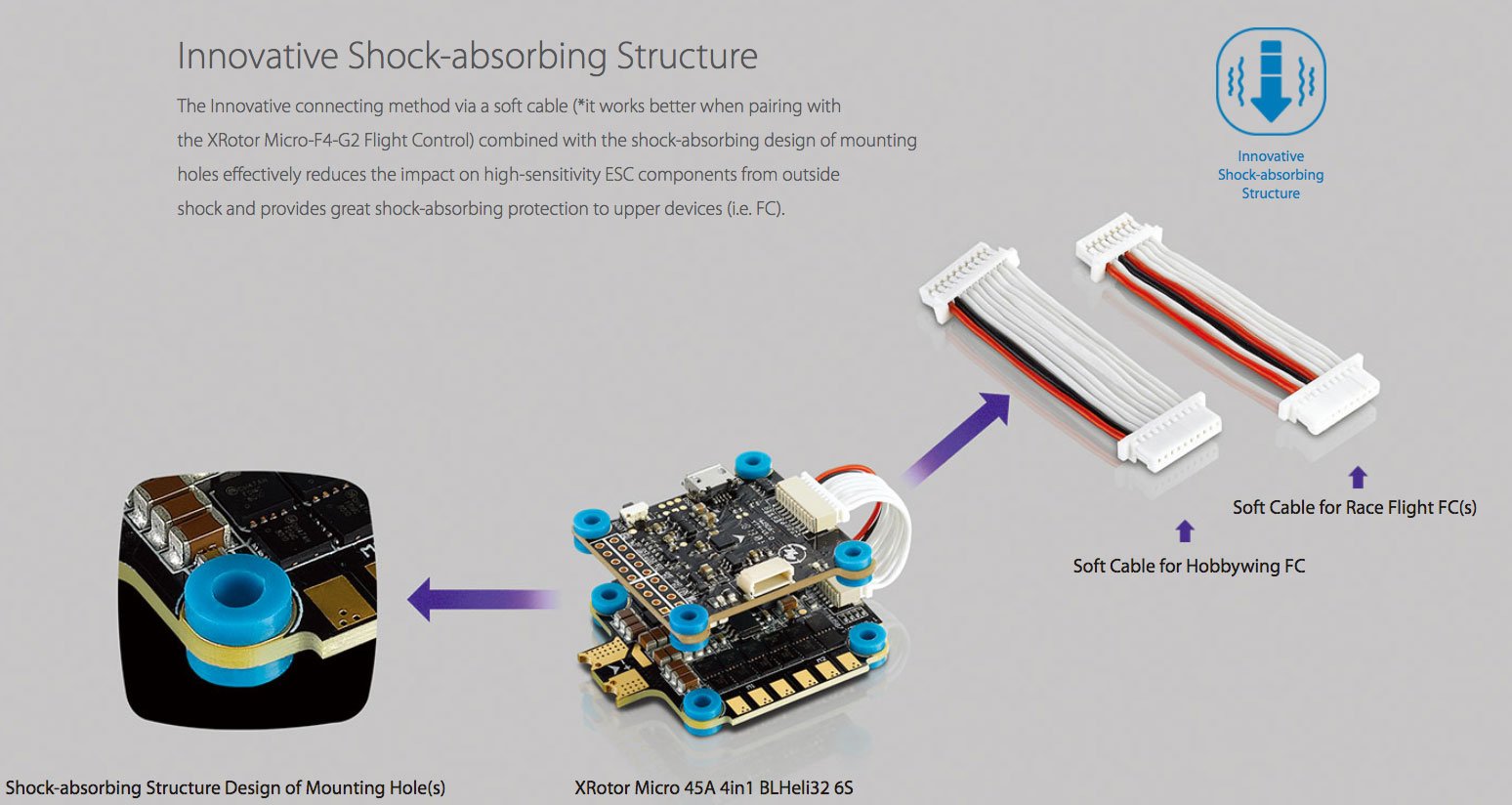 This stack features the best specs for today's racer such as DShot1200, BLHeli32, onboard SD slot, STM32405, ICM20602, and onboard filter circuit for your VTX.
The built-in OSD on the FC allows the user to adjust or set OSD parameters from your flight firmware such as Betaflight/Cleanflight/Butterflight etc.
Specifications
Micro Flight Controller F4 G2
Item name: F4 G2 Flight Controller
Firmware: OMNIBUSF4SD
FC Programming: Supported
Programming via: Betaflight/Cleanflight-configurator or Others
Compatible with (Modes): PWM, Oneshot125, Oneshot42, Multishot, Dshot150, Dshot300, Dshot600, DShot1200, Proshot1000 and etc.
Compatible with (Transmitters): PPM, Spektrum, SBUS, SUMD, SUMH, XBUS, IBUS, JETIEXBUS, CRSF, SRXL, and etc.
OSD: Built-in
Voltage Monitoring: Supported
Current Monitoring: Supported
External Buzzer: Supported
LED Control: Supported
BEC: No
USB Port: MicroUSB
Size: 36*36mm
Weight: 6g
Micro 45A 4-in-1 ESC
LiPo Power input: 3S-6S
Cont.Current: 45Ax4
Burst Current: 60Ax4
BEC Output: 5V@1.5A / 10V@1.5A
Input wires: 12AWG-130mm* (Red/Black)
Output Wire: No wires but solder tabs
Connectors: (In/Out) XT60 (w/ Wires Soldered on) /no
Weight / Size: 11.5g / 32.7x18.4x6.2mm
Mounting holes: 30.5x30.5mm
Throttle Calibration: Supported
ESC Programming: BLHeliSuite32
DEO: Supported
OneShot Mode: Supported
Timing: Supported
Motor Rotation: Supported
Includes
1x F4 G2 FC
1x 45A 4-in-1 ESC
1x Signal Cable
Soft Mount Grommets